I've led canoeing expeditions in Saskatchewan, Manitoba, BC, the Yukon, NWT and Alaska, including the Paull, Churchill, Clearwater, Smoothstone, Sturgeon-weir, Seal, Big Salmon, Nahanni, Keele, Mountain, Toad/Liard, Gataga/Kechika, Omineca, Netson/ Rabbit, Turnagain, Stikine, Taku, Jennings, Tuchodi/Muskwa and Dease rivers. I've guided sea kayak trips in Baja, Belize, Costa Rica, Haida Gwaii, the Central and North coast of BC, and Vancouver Island, including the Broken Group, Discovery, Gulf, Deer Group and Nootka islands, and Clayoquot, Barkley, Desolation and Nootka sounds. I've also taught whitewater canoeing and kayaking on the Churchill, Montreal, Gold, Oyster, Campbell, Puntledge, Cowichan, Nanaimo and Nimpkish rivers.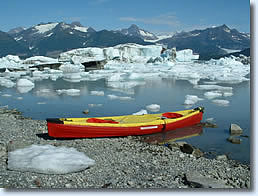 In 2004 I established a relationship with Canada Portable Kayaks Inc. , the Canadian distributor of PakBoats , and I paddled a PakCanoe 170 on the Gataga/Kechika and Tatshenshini/Alsek river expeditions. Check out my photo gallery and both websites to learn more about the wave of the future for wilderness canoeists, a heavy-duty folding boat that really performs.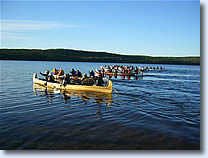 In 2005, CPAWS SK asked me to captain a team in the Saskatchewan Centennial Canoe Quest - a 1,000 km voyageur canoe race down the Churchill and Sturgeon-weir rivers. Our goal was to make connections with northerners and to support boreal forest conservation initiatives in the area. It was an amazing journey, to say the least. See the photo gallery for images from the SCCQ, and visit the CPAWS website to find out more about boreal forest conservation efforts in northern Saskatchewan.
As a freelance outdoor adventure guide and paddling instructor, Iím always interested in hearing about your expedition and paddling dreams, and how I might help you achieve them. I will guide hiking trips and paddling expeditions of all kinds. I will also teach private clinics on lakewater and whitewater canoeing, sea and whitewater kayaking, as well as bush craft, camping and soft skills for outdoor leaders. See my experience and qualifications listed below. Contact me for more information.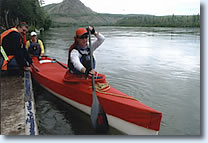 The Yukon River Quest is the longest annual canoe and kayak race in the world, 740 km down the Yukon River, from Whitehorse to Dawson City. In 2006, Michele Genge and I paddled a tandem canoe to a finish in the money, along with a number of SCCQ 2005 racers, including Team Kisseynew – Denesuline Dalutweh, the voyageur canoe crew that finished second overall. They were kind enough to offer us ground support when we lost ours. A big thanks to Martin, Ron and all the guys! Visit the Kisseynew Canoe Company online and find out how to purchase the fastest voyageur canoe in the land. There are some great images from the race on their site, and some more in my photo gallery .